After serving the military and dipping his toe into a few different professions, John Lee Dumas couldn't figure out what career was "right" for him. Until he discovered that no career was right for him — he's an entrepreneur.
Once he started his business, he not only figured out how to make money in a way he actually enjoyed, he also discovered seven things he could never have done if he had kept living the life of mediocrity that a nine-to-five job keeps you trapped in.
1. Made over ​$2.5 million bucks in ​2014 with unlimited upside potential
Making lots of money is great, but it's not the best part. As an entrepreneur, there's no limit to the amount of money you can make. Hard work goes in and money comes out. Your paycheck is determined by your effort instead of the pay scales that human resources creates to make sure you get paid as little as possible.
2. Traveled to exotic locations like Paris, Prague, Barcelona​, Cinque Terre,​ and Puerto Vallarta
When you start a business and structure it right, you get the freedom to walk away at times and pursue other things that are important to you. Whether it's visiting relatives in other parts of the world, traveling to do social good, or just laying on the beach, you get to make the choice, not your boss.
3. Work 12+ hour days and not notice
If you don't love what you do, success is harder. But if you enjoy it, you'll find that time passes without you even realizing it. John credits his success with being absolutely in love with what he does so that he's never watching the clock or waiting for "quitting time."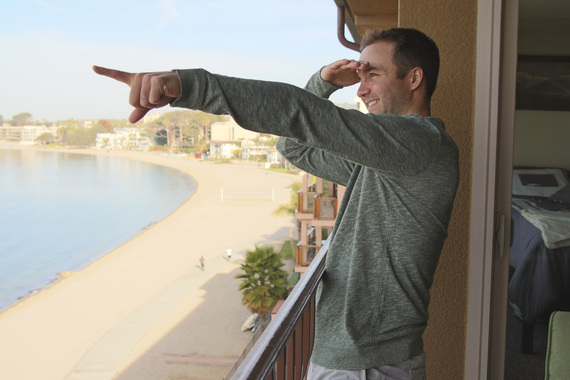 4. Wake up to a beautiful sunrise every day​
John and his partner in life and business, Kate, live and work in their dream city of San Diego in a home with an ocean view. This makes it hard to be in a bad mood when you get out of bed. Designed properly, a business can give you complete location freedom.
5. Interview over ​900 successful entrepreneurs
The centerpiece of John's business is his Entrepreneur on Fire podcast, where he interviews successful entrepreneurs seven days a week. As a fan of these stories himself, John gets to have stimulating conversations with people he enjoys talking to — every day. Not a bad way to make a living.
Podcasting has provided me the platform to connect with people I never thought I'd be able to connect with, and build powerful, lasting relationships.
6. Inspired ​over 10,000 people to pursue their dream of entrepreneurship​
Helping other people to live a better life through entrepreneurship is one thing. The ripple affects is where it gets really cool. When one person leaves their job, they open up that job for someone else and start a business that has the potential to employ an unlimited number of people.
7. Never dread the alarm clock again
Like too many people do every day, John used to dread the sound of the alarm clock summoning him to get out of bed and do work he doesn't like. When you design a business around something you love, you no longer dread the alarm clock and are excited to get out of bed and get started every day.
You might think John is ready to rest on his laurels and enjoy his success, but not even close. He is still "on fire" and continuing to build his business with a goal of ​inspiring one million people to take their entrepreneurial leap by 2016.
Photo by KAL VISUALS on Unsplash
This article was originally published on the Huffington Post
More Like This:
Want to get notified when I post new stuff?
Enter your info below: